Planning your NC500 Adventure
The North Coast 500 brings together a route of more than 500 miles of stunning coastal scenery – 516 miles, to be exact. Not only is the NC500 one of the world's best road trips, but it's also one of the most beautiful. While the North Coast 500 is an experience in itself, you'll also find plenty of adventures to be had along the way. We want everyone who visits the North Highlands to have the best time possible when driving the North Coast 500, so, in this article, we'll bring you some top tips on how to make the very most of your trip.
From exploring the interior of the route, to bagging a Munro; snorkelling, white water rafting, canoeing, hiking and camping expeditions; meditation retreats, creel fishing and gourmet foodie experiences; to pottery-making, whisky tasting, tracing your family tree, and even gold panning – there really is something for everyone along the North Coast 500.
The NC500 has hundreds more miles to explore, don't just stick to the main route – step off the beaten path to discover all the experiences, culture and opportunities the North Highlands has to offer. To maximise your experience along the route, take into account these helpful tips and advice from business owners, visitors to the route and NC500 staff, to really get the most out of your trip.
---
Plan ahead before starting your North Coast 500 trip
Whether you're planning a spring, summer, autumn or winter trip to the North Highlands, planning is essential. The North Coast 500 is very much a year-round destination, with the summer months being increasingly popular, but even during the quieter winter months, booking accommodation, vehicle hire and activities in advance is essential. You'll have a wider selection of options, and quite likely better rates, too.
Think about how many days you'd like to spend along the route. We recommend spending at least five days along the North Coast 500, although 7 days (or more, if you can afford the time) will give you a far greater understanding of this very special area of Scotland. Check out our online itineraries for inspiration.
Plan the route you wish to take, and remember that the official North Coast 500 map is simply a guideline. Venture off the path less travelled, explore Highland villages, coastal towns and the rugged countryside of the North Highlands.
Take into account what you and your travel partners would like to see and do – there really is something for everyone, from adventure seekers and amateur photographers, to wildlife enthusiasts and foodies. Undertake plenty of research before setting off to really get the most out of your trip! Why not take out one of our NC500 memberships to receive lots of great benefits, including the a map to help plan your journey, a wide variety of discounts along the route, access to our online itineraries and a free membership item from our online shop. Membership starts from £15.


---
1. What to see and do
We've said it before, but research, research, research! You really can't do too much planning where the North Highlands are concerned. There are so many reasons to visit the North Highlands, and while you'll only discover a handful of them on your trip, you can always plan a return journey. You will find all the information you need on our website. Our online itineraries provide plenty of inspiration and are themed by travel style, covering everything from action and adventure, camping, cycling, luxury holidays, motorbike travel and food and drink. Our Interactive Map also allows you to search for accommodation, cafes, restaurants, visitor attractions and activities by region. Don't forget to check out our ''See and D0' area to uncover some of the very best experiences and attractions to visit. From fun for all the family to hidden gems, and winter travel to what to do on a rainy day – it is the UK after all!
Photos: Deer Tours by Jack and Jones, Sea Kayak Plockton, Sands Caravan and Camping Park, Glen Ord Distillery
2. Planning your route
Although we always recommend taking at least 5-7 days to explore the North Coast 500, if you are able to take more you'll be in a position to really soak up the Highland wilderness and try plenty of different experiences along the way. You could travel clockwise or anti-clockwise, the choice is entirely yours! Why not travel up the east coast from Inverness first.
Don't just stick to the main route; get off the beaten path and explore, or set up a base in a favourite village or town for a few days, and take day trips. The North Coast 500 isn't about sticking to the main route; it's a guide, to be veered off and explored, so give yourself enough time to deviate from the main roads. You'll also find that one of the joys of travelling in the North Highlands is the ever-present option to turn off a main road and find a gem that can still qualify for the title of 'undiscovered'. From the Pictish Trail, to the seaboard villages of the east coast, the Strathnaver Trail and the North West Highlands Geopark, there's something to suit all travellers.
Perhaps most importantly, give yourself enough driving time. We don't recommend relying on Google Maps; the North Coast 500 includes lots of single track roads, which often take longer to travel than expected – particularly if you're new to the area. It's a journey, not a race!
Photos:  Tarbat Ness and Rosemarkie (by Andrew Dowsett Photography), Achiltibuie (by Hamlet Mountaineering), Dornoch (by The Dornoch Area Community Interest Company)
3. Setting up a base
Another popular way of travelling the North Coast 500 is to set up a series of bases around the route. By spending two or three nights in each location, you'll have enough time to explore each area properly. Time and time over the years, many accommodation businesses have said that visitors have wished they booked an extra night to explore the area in greater depth. By doing this, you'll be able to get out and about and explore on foot, rather than simply on wheels. Alternatively, you may wish to set up one base within the interior of the route, and explore the route from the middle. From the heart of Sutherland, you'll be approx. 40 minutes away from the west, east and north coasts.
Photos: Wallis in Scourie & Estuary View in Brora, Sutherland from Morven by @Saoghal_fasach, RSPB Scotland Forsinard Flows Nature Reserve
4. When to visit?
The majority of visitors to the North Coast 500 take their trips between May and September. However, while summer brings longer days, lighter evenings and warmer temperatures, the autumn and winter seasons are becoming more popular – these colder months open up a magical world of different activities and experiences that can be enjoyed even when the temperature drops.
Spring and summer
A very popular time of year in which to visit the North Highlands. The spring and summer months bring long days and lighter evenings, allowing you to stay active for longer – you'll be able to take an evening walk, play golf until late, or just get out and about and explore. During spring and summer, you'll also be able to see seabirds nesting, and perhaps even spot dolphins and whales. To maximise your chances of seeing these majestic mammals, why not book a boat trip? During spring and summer, the North Highlands hosts plenty of events, from traditional Highland Games, to food and music festivals.
Autumn and winter
Autumn is a beautiful time of year along the North Coast 500… a crisp breeze, a crackling log fire, and bristling leaves floating delicately towards the ground – bliss! The colours around the NC500 really are incredible at this time of year. While spring and summer abound with wildlife-spotting opportunities, during the autumn months you'll see stags rutting around the Highlands, with the colder weather bringing them down to lower ground.
At this time of year you can enjoy wildlife by day and stars and constellations by night! You can sometimes even experience the incredible night time phenomenon of the Aurora Borealis, otherwise known as the Northern Lights. This season along the NC500 is truly magical: think cosy evenings next to roaring fires in country lodges and cottages, visiting distilleries, tasting hearty Highland cuisine and capturing that perfect winter sunlight in a photograph. The North Highlands abounds with activities that aren't possible during the warmer months, from kayaking down crisp lochs, to building a snow palace – and did you know that winter is the best time of year for white water rafting? However, some attractions do close during the winter months, such as castle tours, visitor centres and museums, so check opening times ahead of your visit. To learn more about planning a NC500 trip in winter, read our winter adventure article.
Photos: ACE Adventures & Hideaways, Glascarnoch Dam by @Seanscourie, Puffin Time with Caithness SeaCoast (boat tours), Sands Caravan and Camping Park
5. Driving time!
Give yourself enough driving time each day – it's always better to over-budget your time, as the winding roads of the North Highlands require a great deal of care and attention, particularly if you're not familiar with the area. Please read our road safety section as there is some useful advice for driving the route, what roads to avoid if you are in a motorhome, campervan or caravan and how to drive along single track roads.
Make sure you have directions to your accommodation for each evening, as you won't always have a phone signal in the more remote areas. Postcodes in GPS systems can often cover a large area of ground; for example, the postal area of Lairg stretches for a couple of hours in different directions. A traditional map and clearly written directions, and you won't go too far wrong. Remember to pick up your own official NC500 map from our businesses members around the route (via our interactive map) or become a member.
Finally, be sure to stick to the check-in times that your accommodation provider has outlined, unless you have agreed an out-of-hours check-in with your host in advance. This is particularly important if you're staying in a B&B, or arranging to collect keys to a self-catering property. If you're running late, call your host (if you can) to explain that you will be late and provide an estimated arrival time. B&B hosts have check-in times for a reason; many have young families, and arriving late at night could prove problematic for them.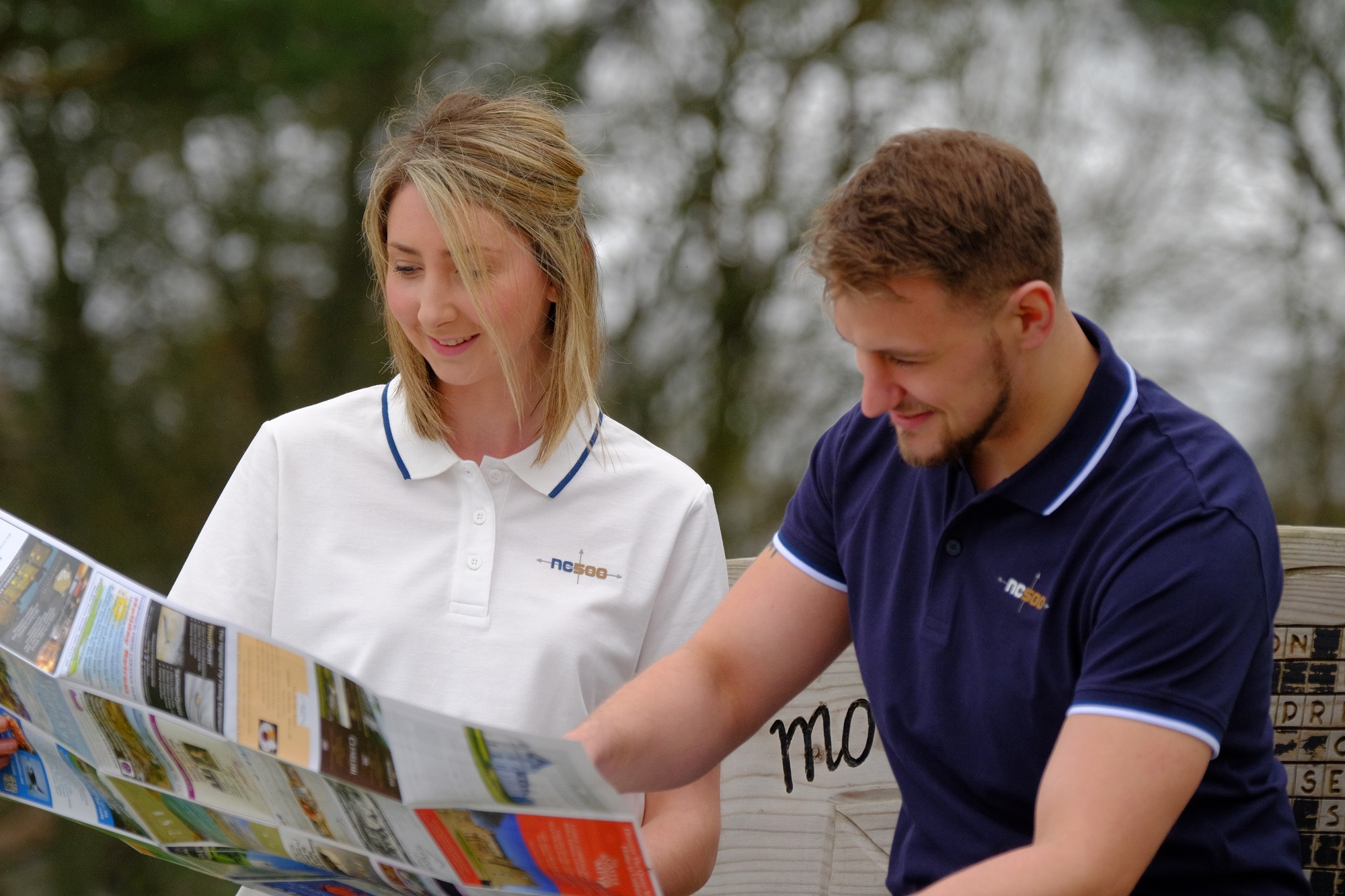 6. Two wheels, or four?
You can complete the North Coast 500 in all methods of transport – by car, motorbike, bicycle or campervan. However, if you are driving the route in a motorhome which is more than a standard VW T5 conversion (i.e. about 16-18 feet in length), please take the alternative routes available on our NC500 Map, avoiding the B869 Drumbeg Loop (take the A837) and the Bealach na Ba (take the A832 to Applecross). If you cannot accurately reverse your vehicle several hundred yards on a narrow single track, you cannot safely drive over these roads.
If you are looking to cycle the route, visit our eight-day itinerary, which has been calculated based on around 65 miles cycling per day – slightly more some days, and considerably less on others. Please adjust this itinerary according to your capabilities, as this plan is aimed at the serious cyclist. Alternatively, check out our motorbike itinerary. If you don't wish to drive, we work with a number of tailor made tour companies such as Whisky & Tweed, The Selkie Lady, North Coast Explorer and Rustic Tours.
Photos: Arnold Clark (1), Ticket to Ride (3), Rabbies (4)
7. Booking your accommodation
"The scenic North Coast 500 and its innovative accommodation, from purpose built caravan parking spots to designer cottages modelled on ancient buildings, makes visiting remote areas easier than ever." (Lonely Planet, December 2018).
Here at the North Coast 500, we work with a range of accommodation providers, from traditional highland lodges to quaint Highland B&Bs, cosy cottages and converted bothies, log cabins, glamping pods, picturesque campsites, luxury hotels, apartments and self-catering properties. One of the most important things we recommend is booking your accommodation in advance – especially if there are properties you wish to stay in. Visit our Interactive Map to choose the type of accommodation that's just right for you. You can also search for 'member discounts', which can be obtained by purchasing one of our NC500 membership options.
For those wishing to camp around the NC500, it is home to numerous awe-inspiring and remote campsites – in some campsites, you'll feel as though you're wild camping, although you'll have all the facilities of a fully maintained camp site. Whether you are looking to keep things minimal or stay at sites with full facilities – there is something for everyone. Check out our Camping Itinerary for inspiration.
Photos: The Jam Factory, Together Travel, Delny Glamping, The Old Manse Bed and Breakfast
8. Pack well for your trip
Be prepared! Travellers to Scotland should be prepared for what locals often describe as 'four seasons in one day'. What they mean by that is, in any given day, you could encounter sunshine, rain, wind and even snow – Scottish weather is extremely changeable! Check the weather forecast before travelling, and each morning before setting off. Layers are important, along with comfortable shoes or boots, and a waterproof jacket. If you're visiting between June and September, midge repellent is advised.
An NC500 Map, GPS, or satnav system, is also really handy for navigation. Make sure your phone is prepared, too: the North Coast 500 app is available as a free download from the App Store and Google Play. This interactive, cultural guide helps visitors find the most interesting sights and attractions around the route, as well as detailing the stories and music connected to them.
*Please remember to keep your eyes on the road and hands on the wheel at all times.
Finally, don't forget to browse our range of merchandise before you zip up your suitcase and finish packing: from t-shirts to hoodies, jackets and even cycling jerseys, you'll find it all in our online shop.
Photos: Look the part as you travel the North Coast 500 – check out our Online Shop
9. Buy locally
Trying new things is all part of this great adventure. Rather than stock up at the supermarket, make the most of the independent shops around the route to buy fresh, local produce from, you'll be spoilt for choice. Farm shops, smokeries, delis, bakers and butchers are easy to find with wide selections of food staples and sweet treats – whether you are purchasing ingredients for your evening meal, a picnic in the mountains or a platter for your Highland retreat.
If you are planning a camping trip around the NC500, find out how you can "eat like a foodie whilst camping"!
Photos:The Storehouse Restaurant & Farm Shop, Applecross Smokehouse, West Coast Delicatessen, Robertson's the Larder
10. Be a safe driver
Scotland, as with the rest of the UK, drives on the left – but there's so many more rules of the road that you'll need to know before you visit. Research driving laws in Scotland before you book your car hire, starting with the Highway Code. It's particularly important to note that Scotland has a lower drink-drive limit than the rest of the UK, so make sure you have one member of your group as a designated driver at all times.
When hiring your car, be aware that some companies require the driver to be over the age of 25 – read up on our top tips for car hire along the NC500 before making your reservation.
Rural driving can be a challenge to those who are not used to single track roads, often with narrow bends and deer and livestock roaming around. You'll find passing places frequently along single track roads; please ensure you know how to use these correctly. If you are holding vehicles up behind you, let them pass! Remember that people live and work along the NC500 route, so be a courteous driver and don't hold them up. Likewise, never park in a passing place; use a designated lay-by instead. For more information, read up on these road safety guidelines for the NC500, and driving on single track roads.
If you are planning to drive a caravan or motorhome, be aware that these vehicles are not suitable on some roads. Our North Coast 500 map highlights an alternative route for vehicles over a certain size, and those who cannot accurately reverse their vehicle several hundred yards on a narrow single track road. If your vehicle is larger than a standard VW T5 conversion (i.e. about 16-18feet in length) please take the alternative routes available, avoiding the B869 Drumbeg Loop (take the A837) and the Bealach na Ba (take the A832 to Applecross).
---
11. Be a responsible traveller – follow the NC500 etiquette!
Be a respectful visitor; keep this area of Scotland beautiful and an enjoyable place for both residents and future tourists. This includes:
Driving responsibly – read the Highway Code before you depart and our road safety guidelines for the NC500, including driving on single track roads.
Keep our landscape beautiful – dispose of your rubbish appropriately
Dispose of your motorhome waste appropriately – please use facilities provided around the route
Keep your dogs on a lead in rural areas
Find suitable places to stop and take photographs, without causing an obstruction
Before your trip, take a look at the Scottish Outdoor Access Code to make sure you understand the local laws and best practices. Do your part to leave 'no trace' and encourage your travel companions to do the same!
---
12. Enjoy yourselves!
And finally – enjoy the journey! The North Coast 500 is to be taken at a relaxed pace, so take detours, make memories, immerse yourself in North Highland culture, learn about Scotland's history, sample local food and drink, and take in the mesmerising scenery. Leave some flexibility in your itinerary to enjoy the places that you discover along the route.
Happy travels!