Wester Ross
A must see destination for all!
A land of breathtaking landscapes, secretive hill lochs, mist shrouded mountain peaks and Mediterranean style beaches. Drive through thriving communities with a vibrant culture stretching back thousands of years to the Neolithic ages.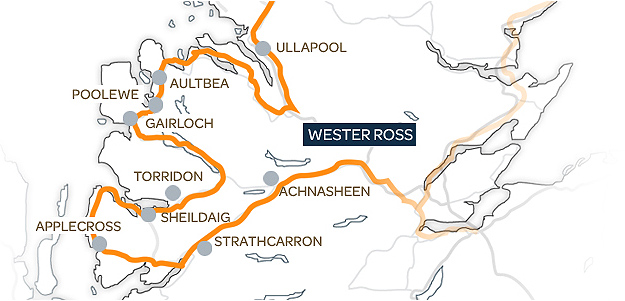 A truly stunning area of extravagant landscapes, lochs and roads, your NC500 journey will really begin to light your imagination as you drive.
---
Photos: Shieldaig, Applecross Smokehouse (courtesy of Fiona Watson Photography), the Bealach na ba (courtesy of Iain Sarjeant)
---
Discover the attractions in Wester Ross worth that extra mile
Whilst we hope to promote the North Coast 500 as a designated route throughout the North Highlands of Scotland, we really want everyone to explore the places in and near the route too! There are hundreds of things to see and do that require that extra mile for the whole Highland experience!
Go 'off the beaten track' and discover the villages and hamlets off the route. Discover your own hidden gems. Check out our itineraries for inspiration and our 'what to see and do area' of our website.
---
Handy Information about your adventure
The Bealach na ba -this notorious stretch of road is notorious for two things; the steep gradients and sharp turns… and the simply breath-taking scenery! During June 11th and July 20th the Bealach will be closed between 6pm and 7am for maintenance works.. please continue to Applecross via the peninsula – a must see visit on your NC500 adventure and a chance to see our hairy Heilan coos up close!
Please note the bealach na ba  is not suitable for large caravans and motorhomes and we would suggest taking the slip road on the A896 instead.
Please be cautious on some Wester Ross roads as some are single track and require extra care.
---
NC500 Members in Wester Ross
Official NC500 Members