Sutherland
Europe's "last great wilderness"
Experience sea and the most incredible landscapes. Sutherland makes up a large part of the North Coast 500, and will leave a lasting memory too. From the dramatic north western scenery, where the mountains meet the sea, to the varied lands of the east – with scattered fishing communities, award winning golf courses, fairy tale castles, archaeological wonders and quaint harbours. Unspoilt, naturally stunning landscapes and seascapes with stretches of sand to rival those abroad, welcome to Sutherland.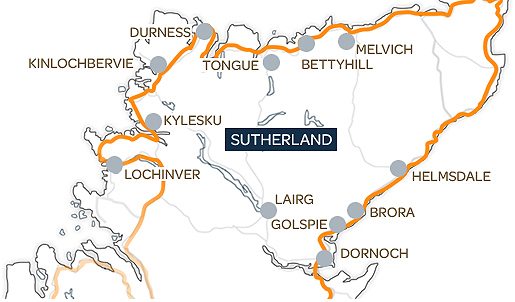 Sutherland makes up a significant portion of the North Coast 500 and is often broken in to two sections; North West Sutherland and East Sutherland. Both beautiful areas, but each offers something completely different!
North West Sutherland covers a large portion of unspoilt, natural landscapes. The mountain ranges are quite spectacular, bringing together the peculiar 'Policeman's Helmet' shaped Suilven and the mountainous tops of Ben More, Foinaven and Arkle.
The North-west side is also home to Cape Wrath, the North West Highlands Geopark and many many more delights that you must consider for your NC500 itinerary.
Photos: Dunrobin Castle, Dornoch Cathedral (courtesy of Dornoch Museum), Stac Pollaidh (courtesy of Hamlet Mountaineering, Sandwood Bay (courtesy of the John Muir Trust)
---
Discover the attractions in Sutherland worth that extra mile.
Whilst we hope to promote the North Coast 500 as a designated route throughout the North Highlands of Scotland, we really want everyone to explore the places in and near the route too! There are hundreds of things to see and do that require that extra mile for the whole Highland experience!
Go 'off the beaten track' and discover the villages and hamlets off the route. Discover your own hidden gems. Check out our itineraries for inspiration and our 'what to see and do area' of our website.
---
Handy Information about your adventure
Sutherland is the largest county within the North Coast 500 and has two parts; North West and East Sutherland.
Please remember to drive safely – some of the Sutherland roads are single track so please be cautious.
---
NC500 Members in Sutherland
Official NC500 Members