Road Safety
The North Coast 500 brings together a route of more than 500 miles of stunning coastal scenery and adventure – 516 miles, to be exact – and not only is the NC500 one of the best coastal touring routes in the world, it is also one of the most beautiful.
When you are on this wonderful touring route, you will be sharing it with the people whose lives and livelihoods depend on the roads in and around the NC500, as well as your fellow travellers from all over the world, so make sure you know how to drive and ride responsibly, safely and respectfully, and remember to leave the countryside as you would all wish to find it – leave no trace of your visit!
Driving on Country Roads
The roads that make up the North Coast 500 are country roads, and visitors should familiarise themselves with the Highway Code, especially regarding how to drive on single track roads. Always remember to drive on the left; and to keep left when starting off or when turning from one road to another.
When driving on country roads, drivers should read the road ahead and anticipate potential hazards. Look out for upcoming bends, hidden dips, blind summits and concealed entrances. Country roads often have sharp bends. To stay in control and give yourself time to react to unexpected hazards, brake before the bend or summit, not in it.
Overgrown verges, bushes and trees on country roads can also block your view and potentially obscure an oncoming hazard. Always drive at a speed which will allow you to stop in the distance you can see to be clear (HALF the distance you can see clear on a single track road). Allow more time to stop on wet or slippery surfaces.
If you get stuck behind a slow moving vehicle be patient. Dips and summits in roads, bends and other junctions joining the road you are on, often hide oncoming vehicles, so unless it's absolutely essential, DON'T overtake. Be aware that a vehicle approaching from behind may be a doctor or nurse on their way to visit a patient or EMERGENCY. Please pull in at the first passing place to allow them to proceed.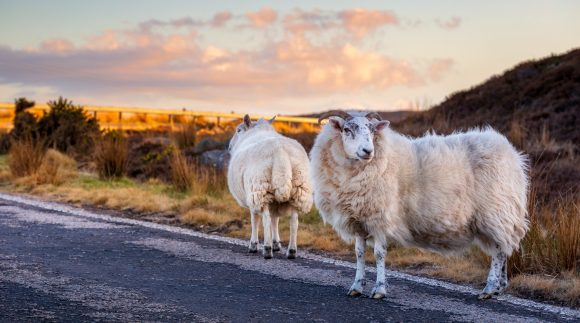 Long lengths of the NC500 are unfenced, resulting in cows, sheep, goats, deer and in some area horses roaming free and can decide to cross the road ahead of a vehicle or can be found wandering along the road. Even when they decide to leave the road, do not take it that is the end of their actions, as they are just as likely to decide that they want to re-cross the road ahead of you as you approach.
If passing more vulnerable road users such as horse riders, cyclists and walkers, pass wide and slow and give them as much room as you would a car. Recent guidance from the Highway Code requires a minimum of 1.5 metres when passing a cyclist. Allow horse riders to access a field access or wide verge before attempting to pass and walkers and cyclists should preferably stop on a convenient verge to allow vehicles to pass for their own safety.
Even if you're familiar with a country road, never take it for granted as the conditions can be different every time.
On wet, rainy days, as a result of vehicles over running the verge and causing blockage of drainage channels, water may lie along the edge of the road and vary in depth. Avoid driving or riding through this water if possible, or if unavoidable, do so at a slow speed. Always be prepared for four seasons in one day!
⚠ If your motorhome is more than a standard VW T5 conversion (ie about 16-18ft in length), please take the alternative motorhome routes available. See here for further campervan and motorhome information.
Speed Limits
The national speed limit on single carriage roads is 60mph, however it doesn't mean it's safe to drive at this speed in all conditions. There will be times you need to drive under that in order to drive correctly for the conditions. In fact, most people do so on these roads – the average free flow speed is 48mph. Remember – the North Coast 500 is not a racetrack.
Please allow traffic behind you to overtake safely if you are travelling at below the speed limit. If you are on single track roads, pull into passing places on your left to allow drivers behind to pass.
Find out more about speed limits here.
Passing Places
A single track road permits two-way travel but is not wide enough in most places to allow vehicles to pass one another. To overcome this problem, many single-track roads, especially those officially designated as such, are provided with passing places.
These passing places are marked with a white diamond or square shaped signpost and may be on either side of the road. It is usually the vehicle closest to the passing place that pulls in and waits for the oncoming vehicle to pass, and this may sometimes require one of you to reverse back in to the space. If the passing place is on the opposite side of the road, you should to wait opposite it so the other driver can pull into the passing place to allow you to drive past. You may get a wave or a flash of the lights from the other driver to say thank you and you may wish to do the same if a vehicle gives way to you! Passing places can also be used to let vehicles behind you pass safely.
DO NOT TRAVEL IN CONVOY as many passing places are only capable of accommodating one vehicle. Rather travel the distance of one passing place apart. This will not only mean that passing places do not become congested, but will also mean that you have a more enjoyable, relaxing journey.
Please DO NOT park on the roads, DO NOT park in passing places and DO NOT park in field accesses – this is dangerous and irresponsible! Wait until you reach a layby or designated parking spot to park up. There will be somewhere on the road ahead that is safe for you to stop and take in the views rather than putting yourself and other in harm's way
Motorhomes and Campervans
⚠ If your motorhome is more than a standard VW T5 conversion (ie about 16-18ft in length), please take the alternative motorhome routes available. If you cannot accurately reverse your vehicle several hundred yards on a narrow single track road – you cannot safely drive over this road. Please do not attempt to drive the Bealach Na Ba (take the A832) or B869 Drumbeg Road (take the A894).
This is following advice from several professional drivers who know the road and from local breakdown services. It only takes ONE person who is not used to driving a large vehicle to block the road completely to the detriment of other users, those that use the road for work, and importantly – emergency vehicles.
As well as the driving information detailed above, campervan and motorhome drivers should be consider the following:
You must feel comfortable reversing the vehicle correctly and safely as you may be required to do this on single track roads.
If you are travelling below the speed limit, please pull in to a layby or passing place to allow traffic to safely pass you.
Do not travel in convoy, especially on small roads as this can lead to congestion. Always travel at least one passing place apart.
More useful information and advice can be found here, on the Campervan & Motorhome Professional Association (CaMPA) website, and from your campervan or motorhome hire company.
Think!
The Department for Transport's THINK! campaign has produced a range of materials to help raise awareness of unexpected hazards on country roads and to encourage drivers to "break before the bend, not on it". This includes their "Helpful Hazard" film, and "If you could see" film and radio ad below.
It also has a list of case studies to highlight the consequences of not being aware of potential hazards on the road. Visit the THINK! website to find out more.
---
Cycling on Country Roads
Cycling on rural roads is different to cycling in the city. Here are a few tips to consider when cycling the North Coast 500:
Don't expect motorists to see you. With sharp bends, hidden dips, blind summits and concealed entrances, motorists driving on country roads may not see you very far in advance. Always be aware of the traffic behind you and ride in a position where you can see and be seen.
Cyclists have a responsibility to use suitable passing places to allow motorised traffic to pass and should not delay other vehicles any longer than is necessary for their own safety.
Avoid riding into the sunset (if at all possible). Riding into the sun can make you virtually invisible to motorists. And when the sun's at your back, keep in mind that road users ahead will have a difficult time seeing you. Watch for oncoming traffic.
Pause in high-visibility places. Wait until you are a safe distance from blind corners or hillcrests before stopping at the roadside.
Familiarise yourself with the Highway Code.
Consider wearing a helmet, use lights and consider wearing bright or reflective clothing, especially at night and in bad weather.
Ensure your bicycle is roadworthy.
Visit Sustrans or Road Safety Scotland for more useful information and tips when cycling on roads.
Looking for inspiration for your next Scottish Cycle Challenge? Why not take a look at our sample itinerary. Become a member to view our full itineraries and receive lots more benefits!