Arnold Clark Car & Van Rental
Arnold Clark Car & Van Rental is part of the Arnold Clark Group ­– one of Scotland's most successful companies. The rental division began in Glasgow in 1963 with just 12 cars.
We've grown over the last 50 years with branches all over the UK but we still like to retain that personal touch as well as great local knowledge.
An unrivalled range of cars
Whether you need a compact car, an off-roader or something to keep the whole family comfortable, we offer an unrivalled range of vehicles to take on every terrain, no matter where your road trip takes you. Our nationwide fleet comprises more than 55,000 cars from every major manufacturer. We cater to every customer, so if you have any special requirements, we're happy to help.
Great locations throughout Scotland
You can find Arnold Clark Car & Van Rental branches in all the major Scottish towns as well as at all the Scottish airports. If you're collecting from an airport, we offer a shuttle bus service to and from the airport. We can even meet you at a local bus station, train station or ferry port, helping you save time and money. If you're not planning a round trip then you can drop off your rental car at another one of our branches; just let us know what you need when you make your booking.
A hassle-free rental process
It couldn't be easier to book with Arnold Clark Car & Van Rental. You can either do it in branch, over the phone, or through our website. All you have to do is tell us what car you would like, the dates you'll need it, where you're picking it up from and we'll take care of all the details. If you're from the UK, you'll need to bring your driving licence as well as two other forms of ID, one of which must be a proof of address. EU licence holders not residing in the UK must bring a domestic driving licence and either a passport or ID card. Drivers from outside the EU must possess a valid domestic driving licence with an English translation.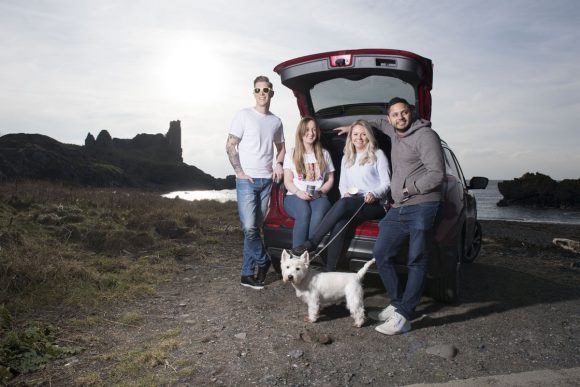 Get more with Arnold Clark Car & Van Rental
If you need anything more to make your journey easier, we offer a range of additional services. Comprehensive insurance comes as standard, as does roadside assistance, just to give you added peace of mind. If you need a child seat, we can supply these from as little as £1 a day. If you're exploring some unfamiliar roads, we can also supply a sat nav free of charge to make sure that you always reach your destination. You get 250 miles included for every day of driving, and unlimited mileage if you hire for 4 days or more, more than enough to explore the best sights in Scotland.
Added value from our experienced staff
Our knowledgeable staff will do everything that they can to help you make the most of your rental. If you're unsure about the local driving laws, we'll give you all the details to ensure a safe drive. They can give you advice on the best routes to take, tell you more about the attractions worth visiting and even give you a few tips about the best sights off the beaten track.
If that wasn't enough, we also offer a 15% discount for North Coast 500 members. Just quote 'NC15' at time of booking and show your NC500 membership confirmation email upon collection to claim this offer.
To find out more visit our website or call us on 01463 649962.

Don't forget to share your #RentalRoadTrip photos with us using the hashtag on Facebook and Twitter.