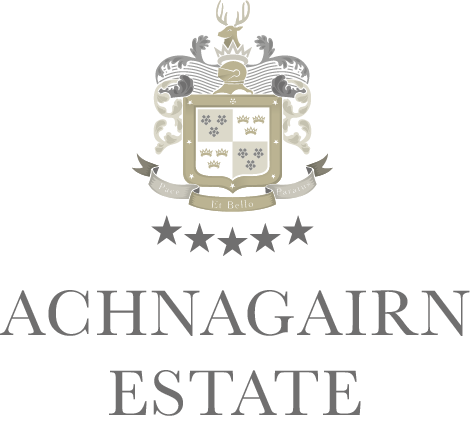 Achnagairn Estate, Kirkhill, Inverness IV5 7PD
Achnagairn Estate
We are thrilled to have been chosen as the luxury accommodation partner closest to the start (and end!) of the route.
At Achnagairn, we have much to offer the NC500 visitor: from a fabulous dinner in our restaurant, through to wonderful accommodation, whether an ensuite bedroom in our Mini Manors, or the exclusive hire of an entire castle if you truly want to travel in style! But don't just take our word for the fact it's so special. After all, we may be a little biased… Instead, listen to the experts: we have a 5* rating from Visit Scotland for exclusive use of the castle, and for the self-catering Mini Manors in the grounds, as well as a 5* AA rating for accommodation at the estate. And as for the restaurant, it has as many reasons to be proud. Our chefs are delighted to have recently received the coveted accolade of Two Rosettes from the AA for culinary excellence.
Achnagairn Estate has so much to offer. Set on 30 acres, 7 miles away from Inverness city centre (and barely half an hour from the airport) the estate provides a perfect escape for the North Coast 500 visitor. With luxury accommodation so close to the start of the route, excellent food and staff who are always happy to go the extra mile, Achnagairn is proud to welcome you to the Highlands. We can offer you several temptingly luxurious possibilities, whatever your preference and budget:
Hotel-Style Mini Manors: accommodation in hotel-style bedrooms
Take an ensuite bedroom, either B&B or with a delicious dinner.
Self-Catering Mini Manors: 5-6 bedroom self-catering Mini Manors
Hire an entire MM with gorgeous kitchens and living rooms for a special self-catering experience. Some even have their own hot tubs.
Achnagairn Castle: 24 bedroom exclusive use castle with ballroom
For those wanting to push the boat out, hire Achnagairn Castle on an exclusive use basis and indulge your group with the 24 bedrooms and historic vaulted ballroom.
Table Manors: Two AA Rosette Restaurant
Enjoy our talented chefs' creations at Table Manors restaurant for dinner or Sunday lunch.
And in the near future…
We are always dreaming up new ways to delight our guests. On the cards are luxury glamping pods, a gorgeous spa and a clubhouse with snooker table and maybe even a cinema.
 
Why is Achnagairn different?
Our motto of "escape the ordinary" informs everything we do. From the determination of the chefs to find the freshest ingredients (it is not unusual to see them up at dawn foraging for wild herbs), to the detail paid to each and every one of our bedrooms, with their individual names and themes. The concept of a personalised feel was born out of the owners' frustration with the draining lack of personality of top hotels they experienced on their own travels. Why was everything always beige and bland? Our visitors certainly can't accuse us of being bland – our food is innovative, and our design is playful and full of flair. But one thing we do share with the top establishments in the world is our obsession with you, our guests. If you're happy; we're happy. And that goes for every one of our staff.  
What do we offer?
Hotel-Style Mini Manors: accommodation in hotel-style bedrooms
Are you after just one or two rooms for your stay? If so, look no further. We offer gorgeous, individually designed ensuite bedrooms in several large houses clustered round the restaurant. We have called them Mini Manors, because they are too grand to be cottages, too big to be lodges, and too Scottish to be villas. So what are they? Each has 5-6 bedrooms, and you are welcome to take individual bedrooms just as you would in a hotel. The only difference is that our many bedrooms are not all in one building, but are spread within several Mini Manors. Overnight stays are available including only breakfast, or with a dinner in the award-winning restaurant.
Self-Catered Mini Manors: 5-6 bedroom self-catering Mini Manors
Self-catered Mini Manors can be hired on an exclusive use basis. These 5/6 bedroom Manors are ideal for groups of friends or colleagues looking for a stay in a fabulously designed house. These Mini Manors have gorgeous kitchens and living rooms for your group to relax. Your group has the choice of self-catering, or indulging and dining in the restaurant on the grounds. For an even more decadent experience, go for one of our Mini Manors with its own hot tub.
Achnagairn Castle, 24 bedrooms

Do you really want to push the boat out? Whether you are a corporate, or a large group of friends with something to celebrate, Achnagairn Castle is the ultimate indulgence. With its vaulted ballroom and 24 individually designed bedrooms, this is the most luxurious way to experience the Highlands. (Please note that the castle can only be hired on an exclusive use basis, i.e. All bedrooms, reception rooms and the ballroom taken together).
Two AA Rosette Restaurant
Our highly talented young chefs, both of whom have won the Young Highland Chef of the Year award, have just received the coveted AA Two Rosettes for culinary excellence at our restaurant Table Manors. Come and enjoy their creations at the restaurant, or when hiring the castle, enjoy the privilege of a tailored menu in the ballroom or more intimate wood-panelled dining room for your group.
And in the near future…
We are constantly investing in the estate, with new projects up our sleeve. The first is our charming wooden glamping pods. As you would expect for Achnagairn, they come with a twist – an unbelievably luxurious eco-retreat. The second is equally exciting – a gorgeous spa to help you unwind and to reinvigorate you for your travels. The third complements the other two – a clubhouse on the estate with snooker room and maybe even a cinema!
And in the nearer term…
Our chefs are working on a special NC500 tasting menu, which will bring in elements of cuisine from stops along the route. Our interior designer is equally busy, reworking one of our Mini Manor rooms as the NC500 room!
Escape the ordinary, visit: http://www.perfect-manors.com/